Property Furnishing London
With smaller investment properties needing to be fully furnished to secure a corporate or professional tenancy, it is no surprise that they let quicker than unfurnished ones and they also tend to achieve a higher rent.  An unfurnished house or apartment can take up to 30% longer to let and each day your rental property in London is empty it is not bringing you an income.   
When a property is furnished in such a way that tenants can see themselves instantly at home, it is likely to let quickly. When corporate tenants are coming to London to work they like everything to be included so they don't have the hassle of trawling the High Street for goods – they can simply move in and start living the lifestyle. Corporate tenants, in particular, are happy to pay more if a property really stands out from others. 
Letting your property simply & quickly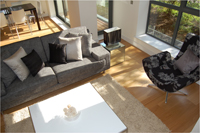 If you own a buy-to-let property and are very busy, or maybe based overseas, you may not have the time to find stylish furnishings and organise all the various things that are needed for a fully furnished rental property. You need to present your property at its best and finding the right furniture can be a time consuming business.  Not only that but the list of items that are required for a professional tenancy can be quite daunting.
And, if you want to make your property really stand out you'll also need some
co-ordinated soft furnishings and accessories to help give your property the 'wow' factor.   It helps if you can find everything you need in one place at a competitive price and that is where we can assist you.
Professional interior designed furniture packs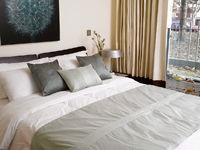 With our experience of working at the heart of the London property rentals market for over 50 years we know what tenants are looking for.

Working closely with our partner company, we can provide stylish furnishing packages to suit most budgets, providing a contemporary living space that will appeal to today's corporate tenants.  We can provide everything needed from beds and sofas to the finer details that can sometimes get overlooked – an ironing board, a vacuum cleaner – even a toilet brush holder.  We think of every last detail and ensure everything is included. 

We'll not only save you time and money.  Whether you choose one our standard rental furnishing packages or opt for a more customised furniture package, we will make sure that everything isn't just functional, but tastefully co-ordinated and stylish too.
Satisfied clients
Our team have decades of experience in furnishing properties for rental investors so  you can be sure that wherever in the world you are located, you'll receive the best service and highest of quality furnishings that will stand the test of time. 

If required, we can put basic furnishing packs together in as little as 48 hours (stock permitting). 

Contact your nearest lettings office for more information or email us
ISD Furnishing Package prices:
Gold Package:
from £3,295+ VAT
Studio Package
from £3,295+ VAT
1 Bedroom Package
from £4,295+ VAT
2 Bedroom Package
from £5,295+ VAT
3 Bedroom Package
from £6,295+ VAT
Diamond Package:
from £5,595+ VAT
Studio Package
from £5,595+ VAT
1 Bedroom Package
from £6,595+ VAT
2 Bedroom Package
from £8,995+ VAT
3 Bedroom Package
from £10,995+ VAT
Tailored Package
Call our
International Offices
now for more details!
Get advice on furnishing a property by contacting us on:
China: (+86) 21 6039 8515
Hong Kong: (+852) 2537 5443
India: (+91) 9324 696 164
Malaysia: (+603) 6211 6478
Singapore: (+65) 6463 6026
For more information, view ISD case studies.